Introductory Lessons
A perfect way to experience real flying for a one-off flight or to start the
adventure to flying for fun or a new career.
An introduction to flying

Taking your first steps with an introductory flying lesson is often the start of an adventure to learning a new skill or changing career to allow you to see the world, for work.
This allows you to experience flying before fully committing to gaining your PPL or LAPL and the time of your introductory lesson can be logged in your log book towards both of these courses.
You may also want to give the gift of flight to a close friend or loved one.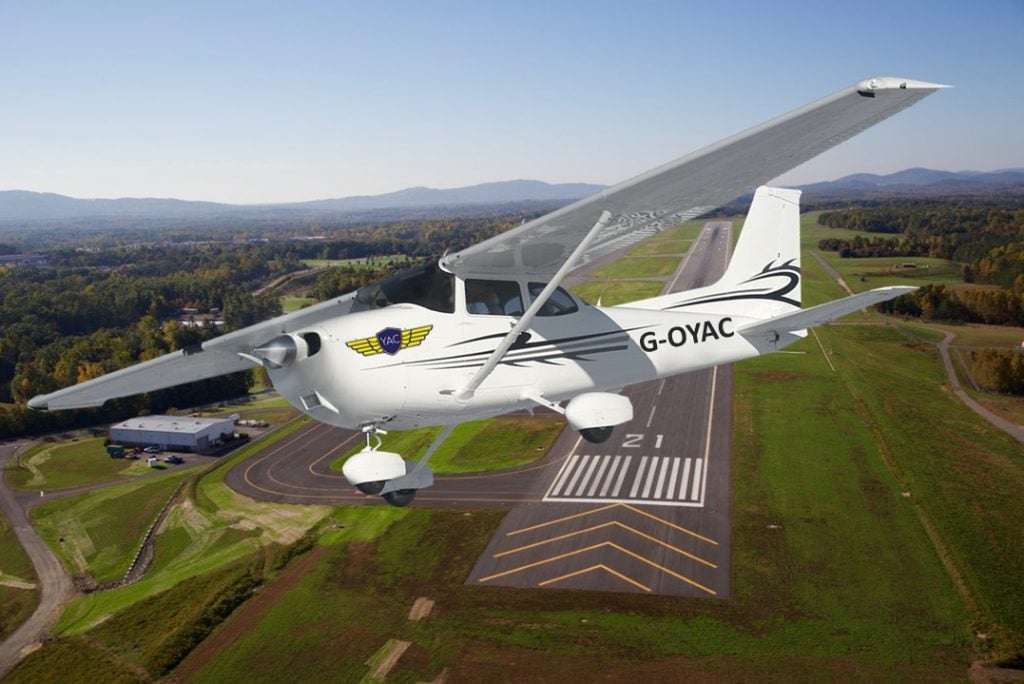 4.9

Stars - Based on

72

Customer Reviews
Take to the skies in a introductory flight in a choice of a 2 or 4 seater aircraft.
Our 4 seater option includes the ability to bring up to 2 guests at no further cost.
We offer both a 30 minute flight and for an extended flight time and scenes of the local area, 60 minutes.
The voucher is valid for 6 months from the date of issue.
As part of the introduction, one of our skilled and trained instructors will brief you and discuss the route your lesson will take.
Due to the closure of Doncaster Sheffield Airport in November 2022, all introductory flights are now based from our Sandtoft Airfield base.
You'll immediately jump in the aircraft. As a local airfield, this gives greater access to our fleet and also has better vantage points for spectators from standing outside the perimeter or from the airfield cafe.
Once at the aircraft, your instructor will run through some standard checks and complete the standard process to be able to start the aircraft, conduct the pre-flight checks and before you know it, the wheels will be off the ground and you'll be climbing in to the sky.
During the lesson you will take control of the aircraft and be solely responsible for the movement under the careful watch of the instructor.
Towards the end of the lesson, you will head back to the airport and start your descent to ground which will give you the first look at the runway like you've not seen before when coming in to land. Moments later, you'll be back and taxing the aircraft back to the stand ready for the next keen pilot.
Many of our customers that take a introductory lesson (or trial flight) record their experience. Why not take a look at some of their videos to see what you're missing out on!
Frequently Asked Questions

Where can we go on a flight?
Depending on the length of your flight, you could fly over your home town, or see a popular landmark such as Ladybower Reservoir, the Humber Bridge, Chatsworth House. Your instructor will discuss your desired route on the day of your flight.
Do I need any previous experience?
None at all. Our introductory lessons are designed for the first-time flyer.
Can I give a flight as a gift?
You certainly can. When ordering, just enter the name of the person taking the flight and we'll ensure that this is printed on their voucher.
Is there a weight limit?
In our 2-seater aircraft, there is a passenger weight limit of 16st (101~kg).
If the primary passenger is over this limit, our 4-seater will need to be booked.
Is there any age restriction?
There's no age restrictions, however you need to be 14 or over for the flight to be logged as part of the training towards the Private Pilot's Licence.
What do I need to bring with me?
We recommend suitable shoes such as trainers or those with a flat bottom and in the colder months, suitable clothing and a jacket, jumper or hoodie.
Do you offer gift experiences?
A introductory lesson can be called a gift experience, trial flight, sightseeing flight or amongst many other names. They all essentially mean a one-off flight where you decide what you want to see and where you can take control.
Is the cost per passenger?
If you're opting for our 4 seater, it is possible to bring up to 2 guests to enjoy the experience (subject to weight and loading).
There is no additional cost over and above the cost of the 4 seater introductory flight itself.
Can I upgrade to bring a family member or friend?
It is certainly possible to upgrade from a 2-seater to 4-seater aircraft subject to availability.
We recommend that if you want to do this, it is requested in advance as on the day upgrades may not always be possible.
The greater the notice the more chance of this being possible.
A small fee will apply and one of our team will be glad to go through this with you.
Get in touch to discuss the courses or services we or if you would just like general information or to arrange to meet an instructor to discuss your requirements.